Thailand - A short introduction

Thailand, Siam, The land of smiles, situated in the heart of southeast Asia, with a highly inspiring culture and something for everyone has made it a very appreciated tourist attraction for decades. From Bangkok with its rich heritage of ancient architecture merged with today's traffic jams and skyscrapers to the green paradise-like tropical islands in the south and the rolling hills and fertile valleys of the north, Thailand will be the most exciting and magical adventure which you'll never forget.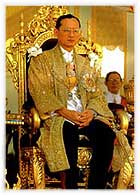 The Kingdom of Thailand is ruled by His Royal Highness King Bhumibol Adulyadej, Rama IX. He entered the throne in 1946 after his brother, King Ananda Mahidol (Rama VIII), who was found assassinated. His majesty is a very prominent man who has, although he has no real governing power, done much to increase the standards of the Thai people during his 55 years on the throne. The Thai people really love their king, and it would never come to their mind to dishonor him in any way. You, as a tourist should really remember this because if you openly show disrespect towards the king, you will most certainly find yourself to be in more trouble than you can handle.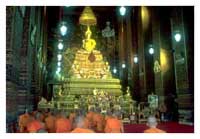 About 95% of the Thai population profess themselves to Buddhism. There are approximately 250 000 Buddhist monks (Prah) in Thailand. The majority of these are only monks for a short time. Young Thai men become monks temporarily to honor their family, for their own spiritual development and to get good luck in the next life. Thailand has over 750 000 temples (Wat) whereof around 30 000 are monastery temples. The temples are exceptionally crafted with wonderful decorations both on the outside and the inside. The temples should be treated with the utmost respect and it is important wear suitable clothing and to remove your shoes once you enter a temple. It is also important to remember as a woman not to touch any of the monks. Early in the morning, at sunrise, you can see monks leaving the temple grounds to receive offerings of food from the local community. These offerings are made to receive good luck for days to come and in their next life.

It is really easy to travel around in Thailand. The local transportation, even if it doesn't always meet the comfort standards of the west, is plentiful and cheap. Because of the shape of the country and the geographical locations of major cities, you don't need to travel for a very long time to get where you want go. If you arrive in Bangkok, you can easily get to any place in the country within a day either by air, bus, train or taxi. Transportation within a city is even easier; especially for tourists since taxi drivers, motorbike drivers and "tuk-tuk" drivers are very eager (sometimes too eager) to help you with transportation. The absolutely fastest and reasonably cheap way to travel, if you don't care or have the time to view the beautiful scenery of Thailand, is by air. Domestic flights depart daily between the airports of the country.

We are certain of that your next trip to Thailand will be a colorful mix of exciting adventures and lazy days in the sun. Just the fact that 10.8 million tourists visit Thailand every year (2002) speaks for that the country maintains a high standard and has much to offer. We welcome you to the land of smiles, welcome to Thailand!